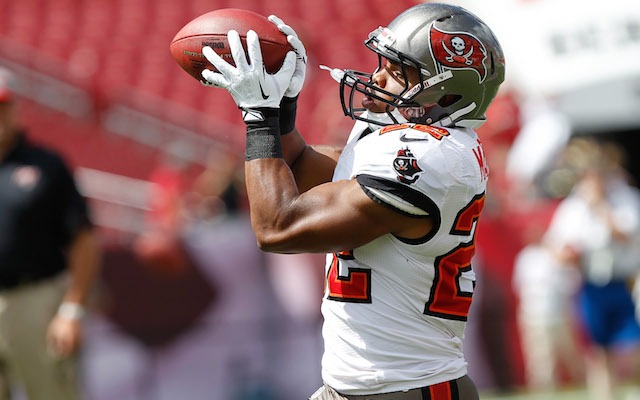 More NFL offseason: Mock Drafts | Prospect Rankings | Pro days | Top free agents
Tampa Bay's Doug Martin said he thought he'd get medically cleared this week and Martin was right. The Buccaneers running back tweeted on Monday afternoon that he's been officially cleared to return from the shoulder injury that cost him most of the 2013 season.
CLEARED!!!! Excited to be back y'all!!

— Doug Martin (@DougMartin22) March 31, 2014
The 25-year-old running back was injured in October when he suffered a torn labrum in his left shoulder in a Week 7 loss to the Falcons. After the injury, Martin underwent surgery and missed the Buccaneers' final nine games of the season.
Martin's clearance means he'll be able to participate in the Buccaneers' offseason workouts, which begin on April 22.
The former first-round pick stormed onto the NFL scene as a rookie in 2012, rushing for 1,454 yards and 11 touchdowns for Tampa Bay. Martin totaled 456 yards and one touchdown in 2013 before suffering the shoulder injury.
After Martin went down, the Bucs running game was put in the hands of Bobby Rainey and Mike James. Although Rainey was solid in 10 games last season, new Bucs coach Lovie Smith said at the owners meeting that Martin will be the guy in 2014.
"We're going to lean on one guy, but I like the rotation," Smith said. "I think you have to have a bell cow. He's ours. At the running back position, there are enough reps to go along. We want three guys we feel comfortable with. Two will play, but it's not a rotation that where every series we're going to have a different guy in there."
Rainey rushed for 532 yards and five touchdowns after Martin went down. James added 295 yards on the season, including 158 yards in Week 9 when the Buccaneers almost upset the Seahawks.