There are a lot of people out there who believe that NFL commissioner Roger Goodell got it completely wrong with Tom Brady's punishment.
Antonio Cromartie, Bernard Pollard, Colin Kaepernick and the NFLPA have all gone on the record supporting the Patriots' Super Bowl MVP quarterback.
On the other hand, there are plenty of people out there who believe that Goodell got Brady's punishment right and one of those people appears to be Pro Football Hall of Fame inductee Ron Wolf.
During a ceremony Thursday night where Wolf received his gold Hall of Fame jacket, the longtime former NFL general manager, including for the Green Bay Packers, had something very interesting to say to Goodell.
"Way to go on that Brady thing," Wolf said as he shook the commissioner's hand.
Goodell's reaction to the comment, which you can see below, is absolutely priceless.
Now, to be fair to Wolf, I can't tell if he's being sarcastic — and actually thinks Goodell did a bad job — or if he's being serious and is actually complimenting Goodell.
Based on Goodell's laughter, I don't think he knows either.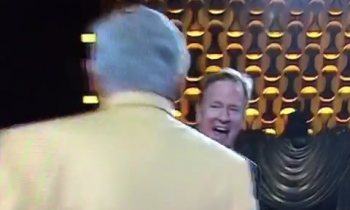 (Wink of the CBS Eye to SB Nation)