The 2016-17 NBA schedule was released on Thursday, and that means you can officially count down the days to when Stephen Curry, Kevin Durant and the rest of the Golden State Warriors play against your favorite team. If you love watching great players or you love rooting against juggernauts, then you're going to want to tune in to a ton of their games next season. Here are 10 that we suggest circling on your calendar, starting with their season opener against a familiar foe:
Oct. 25: vs. Spurs, 10:30 p.m. ET, TNT
The Warriors' opener would have made this list even if they were playing the Sixers. Their first game against the Spurs would have made this list even if it was a random Tuesday in March. This is obviously the NBA's marquee matchup for opening night, and it doubles as an (extremely) early test for Golden State. As Durant tries to get comfortable with his new team, Kawhi Leonard will be trying to make his life a living hell.
Nov. 3: vs. Thunder, 10:30 p.m. ET, TNT
It'll be deeply weird to see Durant play against Oklahoma City for the first time, and the schedule-makers are not making us wait long for it. This will be the fifth regular-season game for both teams, so as soon as the sight of Durant in a Warriors uniform starts to look somewhat normal, he'll be battling his former teammates. Can't wait for Russell Westbrook to tell reporters this is just another game and then play like there's a championship on the line.
Nov. 9: vs. Mavericks, 10:30 p.m. ET
It's unclear just how good these Mavs will be, but they at least have the potential to match up well against Golden State. Regardless, it'll be nice to see Andrew Bogut and Harrison Barnes return to Oracle Arena. They'll surely be cheered until Bogut flattens one of the Splash Brothers on a screen. Another storyline to watch here: Stephen Curry vs. Seth Curry. Here's hoping Seth actually cracks Dallas' rotation.
Nov. 18: at Celtics, 8 p.m. ET, ESPN
In July, Jae Crowder said that Durant choosing Golden State was "like a slap in the face," as Boston's contingent told him its game plan for beating the Warriors in their pitch meeting in the Hamptons. The Warriors are always aware of what others are saying about them, and they'll want to send Crowder and the Celtics a message in a hostile environment.
Dec. 7: at Clippers, 10:30 p.m. ET, ESPN
The Clippers always seem to give Golden State a run for its money, and a home game relatively early in the season is probably their best shot. Anytime these two teams play each other, though, it's a must-watch. There's tons of star power, and they genuinely dislike each other. Also, who can resist the possibility of a Marreese Speights revenge game?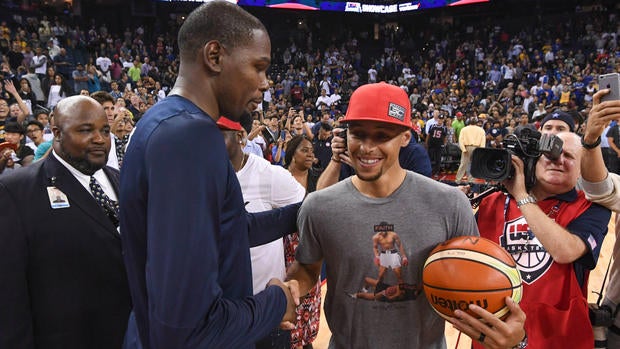 Dec. 11: at Timberwolves, 7 p.m. ET
The young Wolves were a problem for the Warriors last year, and Karl-Anthony Towns should be even more of a matchup nightmare in his second year in the league. Minnesota might be more cohesive later in the season when everybody is used to new coach Tom Thibodeau's style, but this could be its best opportunity against the Warriors. Golden State will be on the second night of a back-to-back after a game in Memphis.
Dec. 25: at Cavaliers, 2:30 p.m. ET, ABC
Do I need to talk you into this one? It's an NBA Finals rematch on Christmas Day. It makes all the sense in the world that the league would save this for the day that casual fans start paying attention. Here's hoping both teams are healthy and it's a prettier game than when they did this at Oracle last year.
Jan. 16: vs. Cavaliers, 8:30 p.m. ET, ABC
Same deal, except this is on Martin Luther King Day, which explains the early weekday start on the west coast. This should be an NBA Finals preview as well as a rematch, and the MVP debate could be getting going, too. I can think of a few players who will be on the court who could have their eyes on that award. One way this could be even bigger: if the Warriors are still unbeaten at home at this point.
Feb. 11: at Thunder, 8:30 p.m. ET, ESPN
This is the most anticipated game on the entire schedule: Durant's return to Oklahoma City, where he was seen as a hero for eight years and is now the opposite of that. Despite general manager Sam Presti expressing nothing but appreciation for Durant, there will be boos and they will be loud. Some superstars rise to the occasion when they're treated like a villain. Durant has never been in this position. How will he respond?
April 10: vs. Jazz: 10:30 p.m. ET
I could have gone with any of the Warriors' games against the Jazz, who are as talented and deep as any non-super-team. Utah already presented unique challenges for Golden State because of its size, and it could be the most improved team in the league next year with George Hill, Joe Johnson, Boris Diaw and better health. This will be both teams' penultimate regular-season game — the Warriors could be trying to break records and the Jazz could be fighting for playoff positioning.