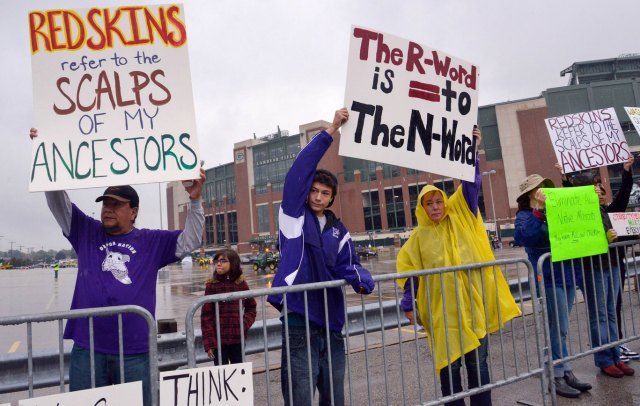 More NFL offseason: League minicamp dates | Latest news, notes
The Redskins got a flurry of bad news Wednesday when the U.S. Patent Office canceled the team's trademark registration, because the team name is "disparaging to Native Americans." Basically, it means that the team could lose its federally trademarked protections and could hasten the franchise to change the name, depending on how much pressure the rest of the league puts on Washington for a potential loss of revenue.
While Miami University, now the RedHawks but formerly known as the Redskins, tried to offer some advice on Wednesday, the sports editor of the Seattle Times, Don Shelton, is taking a more drastic step.
The newspaper, in effect, won't allow the Redskins name to grace its pages any longer.
Why exactly?
"It's time to ban the use of 'Redskins,' the absurd, offensive and outdated name of the NFL team in Washington, D.C.," Shelton wrote. "Past time, actually … We're banning the name for one reason: It's offensive. Far from honoring Native Americans, the term colors an entire race. Many Native Americans consider it an outdated label placed on their people."
The Times isn't the first influential media outlet to take these steps. TheMMQB.com doesn't use the term and neither do the Kansas City Star, the Oregonian, the Orange County Register and the San Francisco Chronicle.
Shelton explained that when he was hired as sports editor five years ago, he convinced himself that a decision that had been made 15 years earlier to minimize the use of the name was good enough. According to Shelton, the Times' policy was to allow the Redskins name once per article and not to use it in headlines or photo captions.
But that stance is no longer appropriate in the eyes of Shelton, who ends his piece writing that he's happy for readers to express their opinions. Yet …
"Still, your feedback won't change our decision," Shelton wrote. "Some things are too important to be put to a vote."